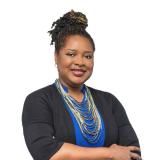 Ms Hope Wint is a Risk Management professional with over 26 years' experience in the financial services sector and is the Executive Director of the Prime Contact Secretariat at the Bank of Jamaica. She is a certified ISO31000 Lead Risk Manager; a designated Certified Financial Analyst (CFA); a Financial Risk Manager (FRM); and a member of the Association of Certified Anti-Money Laundering Specialists (ACAMS).
She is also a Jamaica Stock Exchange (JSC) Mentor for the Junior Market where she advises on the adequacy of procedures, systems and controls for the financial reporting, corporate governance, timely disclosures of information to the market, and general compliance to listed company requirements.
Ms Wint has spent the last 26+ years honing her career in developing and managing risk management, compliance and internal control frameworks to mitigate risk (operational, financial and business), improve organisational transparency and secure Board/shareholder confidence for financial entities operating in Jamaica and other Caribbean Islands.
Ms Wint has held leadership and membership roles on various private and public sector Boards, Audit and Technical Risk Committees. She is currently the Chairperson of the NHT's Audit Committee, as well as the Jamaica Information Service (JIS) Audit Committee; a Board Member and Treasurer of the CFA Society Jamaica; and a Board Member and Investment Committee Member of the Munro and Dickenson Trust.
Ms Wint strongly believes that minimizing risk is key to maintaining viability.