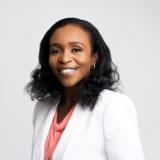 Mrs. Diego-Grey is an Attorney-at-Law with over fifteen years' experience in Commercial/Corporate Law; Conveyancing, Construction, Intellectual Property and International Trade Law at the private and public bar combined.
As Legal Counsel in the Company Secretariat and Legal Services Department of the National Housing Trust from 2018 to 2022, she provided legal advice on various transactions between the Trust and external public and private sector entities including Construction Projects, Joint Ventures and the Guaranteed Purchase Programme. She has acted in the position of Deputy General Counsel at the Urban Development Corporation of Jamaica and is a former Corporate Secretary of the Jamaica Promotions Corporation.
Prior to entering the field of law, she served in the Foreign Service of Belize as a Senior Diplomat and Advisor to the Ministry of Foreign Affairs of Belize on International Trade and was a Member of Negotiating Teams for Belize involving CARICOM, the European Union, the Organisation of African, Caribbean and Pacific (ACP) Group of States and the Central American Integration System (SICA).
She holds a Bachelor of Science in Economics and International Relations (Double Majors) from the University of the West Indies; Master of Arts in Legal Studies from the University of Bristol, United Kingdom; Bar Vocational Diploma from the Nottingham Trent University, United Kingdom; and Certificate of Legal Education from the Norman Manley Law School. She is a member of the Honourable Society of Lincoln's Inn, United Kingdom and is a member of the Jamaica Bar Association.
Her interests include sports, international affairs, interior design and travelling.