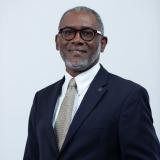 Mr. Linval Freeman was appointed Chairman of the Board of the National Housing in January 2023. He has an adept knowledge of Accounting and Auditing. His experience and academic prowess have seen his involvement with several organizations and institutions, chief among which are Ernst and Young Caribbean, where he served as Director and Assurance Partner in the Jamaican office and PricewaterhouseCoopers, where he worked as Director with oversight for Internal Audit Practices.
A Chartered Certified Accountant since 1984, he holds a Diploma in Business Administration from the University of Technology.
His mastery in the management of business finances and compliance with various regulatory standards has been demonstrated in the many boards and organizations to which he has offered his time and service. A few to note are the Institute of Chartered Accountants of Jamaica, where he is a Fellow and Canopy Insurance Limited, Key Insurance Company Limited, Sygnus Real Estate Finance Limited and Sygnus Deneb, where he serves as Director and Chairman of the Audit Committees.