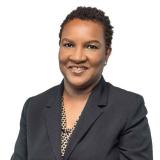 Ms. Merle Donaldson holds an MBA in International Business and B.Sc in Chemistry and Management from the University of the West Indies and a Postgraduate Diploma in Education and Training from the Vocational Training and Development Institute. She has also completed a Certificate in Board Directorship through the Commonwealth Association for Corporate Governance/Private Sector Organisation of Jamaica Training Programme.
Ms. Donaldson has over twenty years of experience in both the public and private sectors. In addition to her current role as the Chief of Staff at the Office of the Prime Minister, she has served in various capacities at the Ministry of Education, Bureau of Standards Jamaica and Ernst and Young Caribbean in the areas of research, business development, project management, quality systems and conformity assessments.
She also serves on the Boards of the Planning Institute of Jamaica and the CHASE Fund.