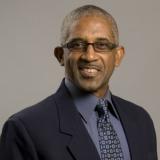 Senior General Manager, Construction and Development Division
Donald Moore serves as the Senior General Manager for Construction and Development and has direct oversight for the planning and implementation of the NHT's construction and development portfolio.
With over 25 years of experience in civil engineering and project management, Mr Moore has amassed several accolades and has led several developments, of note is his planning and construction of Emancipation Park and the management of an international design competition for the Clarendon New Town Project. A graduate of UWI, St. Augustine, Mr. Moore holds a Masters Degree in Civil Engineering from Clemson University, South Carolina. He is a Project Management Professional (PMP) and has served on the Board of the Jamaica Doctor Bird Chapter of the Project Management Institute and on the Council of the Jamaica Institution of Engineers.
Mr. Moore has worked with both the NWC and UDC before joining the NHT in 1992.