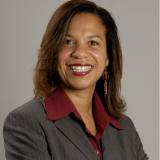 Senior General Manager Customer Relations Management Division
Dr. Lanie-Marie Oakley-Williams is the Senior General Manager of the Customer Relations Management Division. She has been serving in this post since May 2010 after having joined the organization since 2004.
A specialist in Business Leadership and Management, Dr. Oakley-Williams holds a Doctorate in Business Administration, as well as a Masters in Business Administration (MBA) from the Nova Southeastern University. She holds a Bachelor's degree from the University of the West Indies (UWI). Other certification includes a Two Year Banking Certificate from the University of Technology (UTECH), and a Post Graduate Diploma in Public Sector Senior Management from the Management Institute for National Development (MIND). In addition, she completed a Post Graduate Teacher's Diploma from Shortwood Teachers' College.
Dr. Oakley-Williams is an active member of several boards including the Jamaica Customer Service Association, the St Andrew High Past Students Association, Women's Inc., as well as the Leo Oakley Foundation. She is the immediate past Chairman of the Jamaica Customer Service Association and also serves as a Justice of Peace for the parish of St. Andrew.